The Unofficial Camp Diana-Dalmaqua Website
Best viewed with monitor at following settings: Color Palette= High Color (16 Bit) and Desktop Area of 800 X 600 pixels or more.
---
Hangin' Out At The Canteen, 1959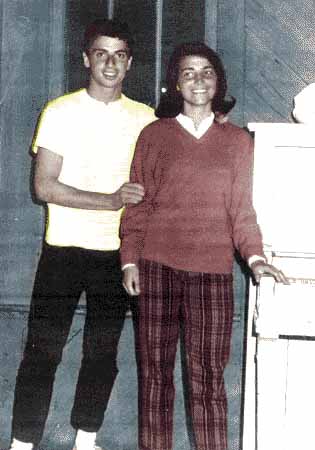 Ritchy Bassin and Cheryl Post looking very much the quintessential teenagers from the first rock n' roll era. Kinda makes you wonder just how old that piano is. (Photo courtesy of Ritchy Bassin)

Evening At The Canteen, 1973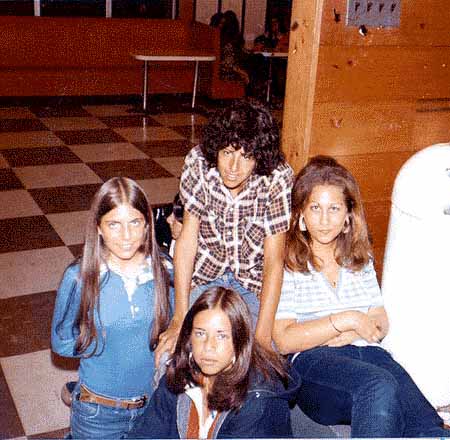 The gymnasium and "new" canteen at Diana-Dalmaqua provided a multi-purpose facility for a variety of activities. It easily accommodated the entire camp for evening socials, intercamp basketball games, YFriday night servicesY, indoor sports clinics and special gatherings. From the time it was built, and for many years thereafter, it was the singlemost impressive facility to be found at any camp in the area... Hangin' out in the summer of '73, clockwise from left:
Beth Roberts, Dave Friedman, Lori Sharfstein, Robin Rosenthal



The Gym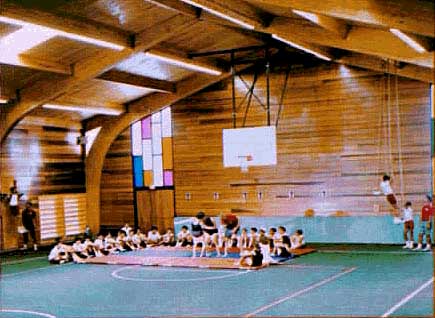 ...told you it was impressive! (Photo courtesy of Eric Mokotoff)

The D.I.T.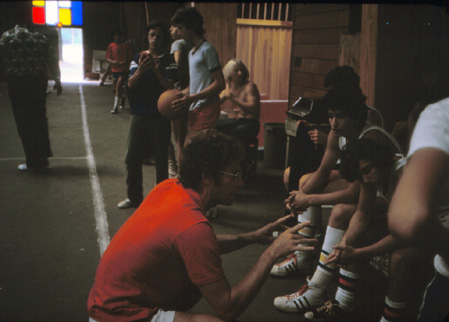 Certainly a key element of camp culture at Dalmaqua was sports, specifically basketball. And, with a top-notch sports facility on the grounds, it was only natural that Dalmaqua host one of the most prestigious basketball tournaments in the mountains. Every summer, the Dalmaqua Invitational Tournament hosted teams from all over the region. Area camps sent teams to compete in the "Under 14" & "Under 16" age divisions - teams that represented Camps Lokanda, Brookwood, Ta-go-la, Ranger, Chipinaw, Colang, Tom Costello's...to name but a few.
Here, Larry Pyser coaches the 1974 Dalmaqua Under 16 Team at halftime. Seated are Eddie Gibstein and Phil Weinstein. In the background, Peter Thea adjusts the clock while Robert Braha looks on. Whitey Markowitz mans the scorer's table, and Ellis Marmor addresses the crowd assembled in the stands.


Eternal Campers, 1976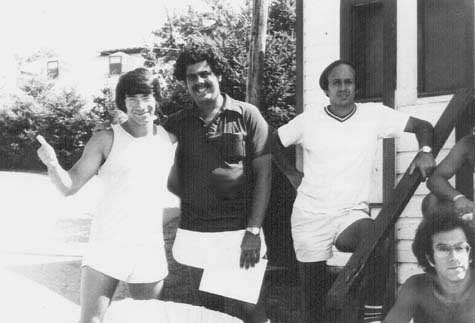 It's a truism that no matter how many years one is involved in summer camping, the magic of the experience never diminishes.
L to R: Richie Kamen (Boy's HC), Barry Charles (Groupleader-Super Senior Boys), Shelly Silver (Tennis Specialist), and Marc Isaacs (Groupleader-Senior Boys).


Water Sports, early 60's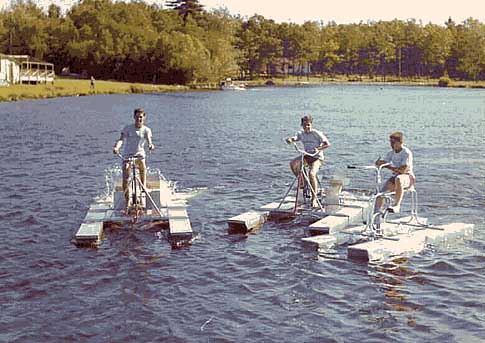 For most of us, these peddle-powered craft were mere remnants of a bygone era...scrap heaps that were permanently parked in back of the old Canteen. But, some of you can remember when these metal monsters ruled the waves. (Photo courtesy of Eric Mokotoff)

Boys' Campus, 1969

A panoramic view of Boys' Campus which is actually a composite of three photos taken on a Kodak Instamatic 100. The point-of-view is from halfway down the hill in front of Bunk 15. (Photo courtesy of Art Baum)


Boys Campus, April, 2001

Camp Simcha on an early spring day. (Photo courtesy of Darren Shevchuk)

Girls' Campus, Late 80's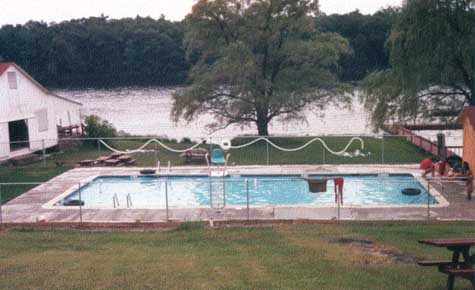 Here's a sight that is unfamiliar to all the oldtimers - the pool on Girls' Campus. Built in the latter years of CDD, it has since been moved to the outfield of the upper diamond for the campers of Camp Simcha. (Photo courtesy of Lisa Alter)


Social Hall and Old Canteen, 1955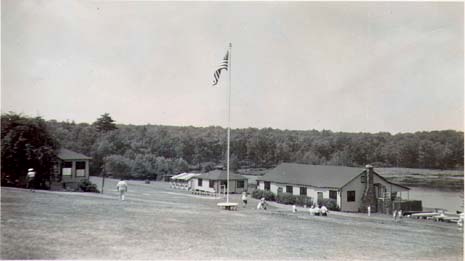 There are several interesting details in this photo. For one, the newly-constructed rear porch of the canteen did not yet have a permanent roof. For another, the flag has only 48 stars. And finally, can you guess what's missing? The answer is: Bunks 14 & 15 (a.k.a. Diana Hall). They hadn't been built yet. Interesting side note - this was the summer of Hurricane Diane, which whipped up such a violent storm that the bridge at Eldred was washed away.



Labor Day, 1997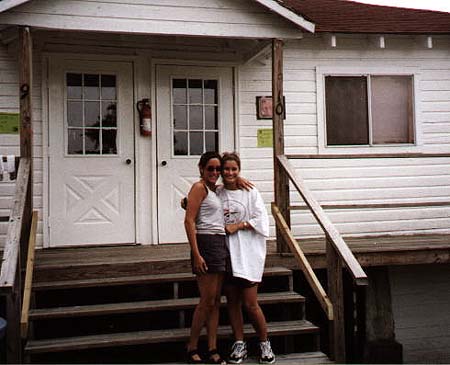 In the 1955 photo, Bunks 11 & 12 can be seen at frame left. Fast forward 42 years to the present...
Carrie Goldstein (left) and Bonnie Greene in front of those very same bunks. They were in the neighborhood and decided to stop by what is now Camp Simcha. (Photo courtesy of Bonnie Greene)



A View of Camp Simcha, 1997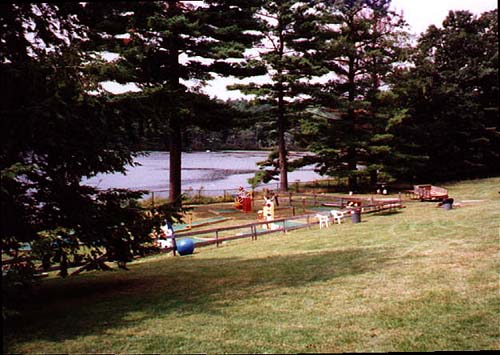 When this photo was taken, there was a miniature golf course on Boys' Campus which had been constructed along the former right field line of the lower softball diamond. The diamond itself was also the site of a fully equipped outdoor playground. Both features have since been removed. (Photo courtesy of Bonnie Greene)



S.A. Boys, 1971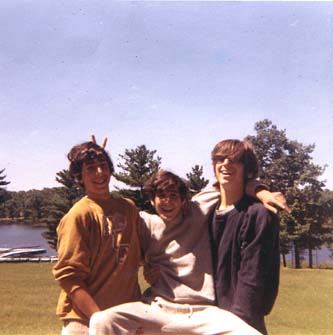 The boys of Brooklyn in the summer of '71.
L to R: "Aristotle Onasis, Jr", Dave Libo, Ed Lippe
Being an S.A. was just like being a camper...except you never had to go to activity. This was the summer that Lippe perfected his poker game. It was also the summer that "Ari" recited the first two verses of "The Raven"...in the middle of a belch.

Waiters, 1972
Eric Kipperman in full costume, surrounded by his army, for a serious poker marathon.
Left to Right: Jimmy Haber, Danny Shainis, Kenny Brown

"Keep On Truckin'", 1972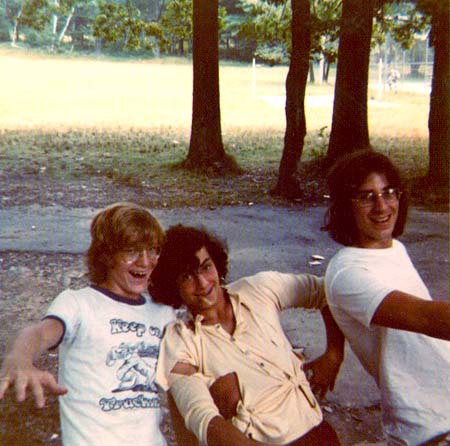 Kenny Brown's shirt says it all. Eric Kipperman's shirt says something else entirely (!), presaging the edgier aspects of punk fashion some five years before the fact. Life in the Waiter Bunk was a rite of passage...to adulthood or jail. Ed Lippe has the best idea - exit frame right!


Rest Hour, 1973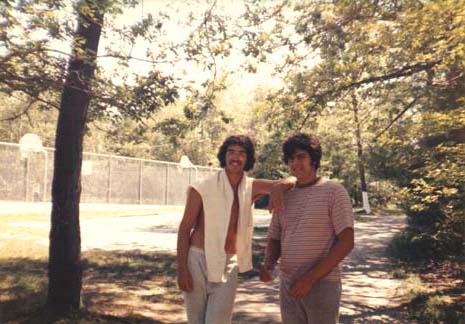 Randy Bennett and Barry Charles enjoy a period off-duty...


Free Play, 1974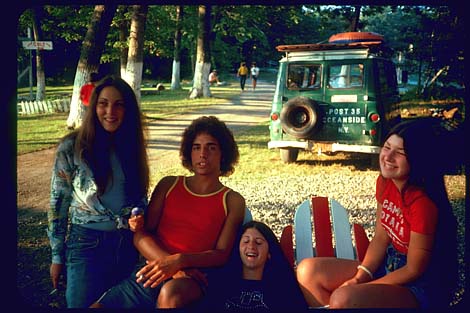 One of the best rewards after a day of running around outside in the hot sun, and a time of day so vividly remembered by so many people, was the hour after dinner from seven to eight in the evening. Free play was everyone's chance to do whatever they pleased, as the day's heat dissipated and the promise of canteen night and evening activity lay ahead. Fishing by the lake, running full court, reading, hanging...
Four practitioners of "general hang" in 1974: (L to R) Nancy Perl, Danny Shainis, Margie Rosenthal, Meryl Drescher



Free Play, 1977
Jill Weiss and Mitch Isaacs, another mellow evening during free play...



C.A. Girls, 1976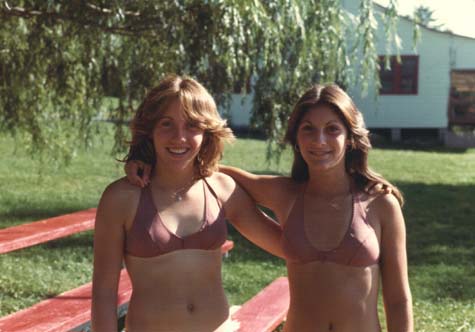 Allisyn Kovat & Bonni Gimbel, who remained close despite having bought the same swimsuit...


Sunset On Boys Campus, 1974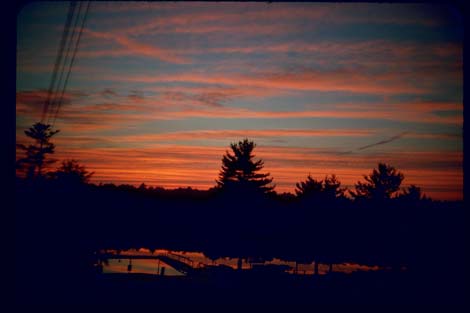 There was nothing better than contemplating the sky during the brief interlude between free play and evening activity.



Hangin' Out on the Road to the Gym, 1974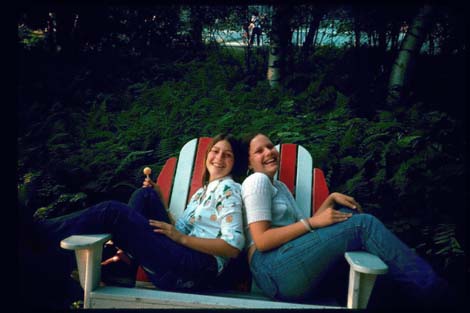 Sue Harris and Meg Sussman, bunkmates & buddies...



---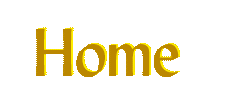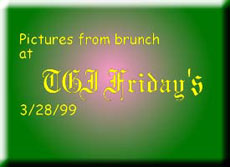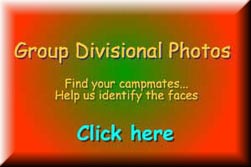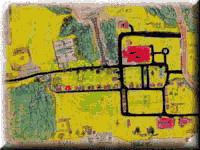 Map of Camp Diana-Dalmaqua
Circa 1970



Diana-Dalmaqua postings - Click on

Reunion News Bulletin Board...
You just might see a message from an old bunkmate.