The Unofficial Camp Diana-Dalmaqua Website
Background wallpaper is a collage of various camp theater productions, courtesy of Art Baum.
---
Drama Program
West Side Story, 1970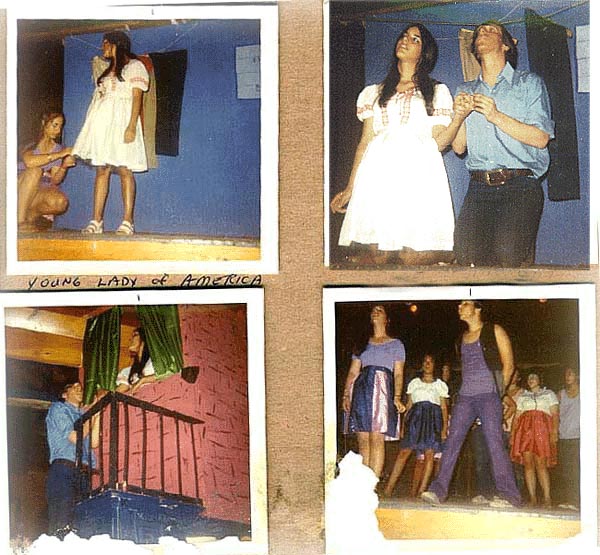 One of the highlights which occurred toward the end of the summer (usually just before Color War) was the show put on by the oldest campers and waiters. Throughout the years, there were many notable performances by some very talented folks - some of whom went on to have professional careers. Here are four stills from the 1970 production of West Side Story, which featured Barry Schiff as Tony, Diane Golden as Maria, Shelley Stein as Anita and Jan Press as Bernardo.
This was the last production that Art Baum directed at CDD...He & his family are still active in community theater in St. Louis.
Here's how it sounded that night: West Side Story, Finale & Curtain Calls

(Requires RealPlayer G2 or RealPlayer 7 from RealNetworks)


(Photos courtesy of Art Baum, Audio by Herb Ross)


Cabaret, 1969
The previous year's dramatic highlight starred Barry Schiff as the Master of Ceremonies and Karyn Klebanoff as Sally Bowles. Click on the link to see the original playbill from that night. (Photos courtesy of Art Baum, Program courtesy of Michael Fellner)
The Wizard of Oz, 1969
Summer theater always started off with the youngest campers showing off their skills. It was usually their very first experience with performing in front of a live audience...many became hooked for life. In the '69 production of "The Wizard of Oz", Helene Herbert is Dorothy, Jeff Goldenstein - the Scarecrow, Sion Betesh as Toto. And taking center stage in a field of munchkins is six year old Lisa Alter. Click on the link to see the original playbill from that night. (Photos and original playbill courtesy of Art Baum)
The Fantasticks, 1969
The end-of-the-summer counselor show provided an opportunity for interested staff members to participate in a production of their own. For the drama and music counselors it was a chance to work with their peers. Here are photos from the 1969 production of "The Fantasticks", direction and music by Mike Fellner. Click on the link to see the original playbill from that night. (Photos courtesy of Art Baum, Program courtesy of Michael Fellner)
Art Baum, 1995





Guys and Dolls, 1966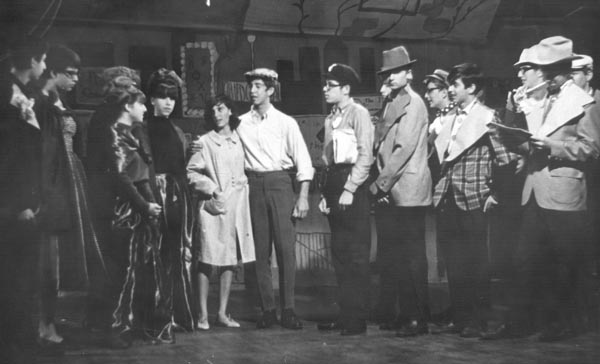 David Simon as Nathan Detroit, Barbara Cohen as Adelaide, Richie Resnick as Sky Masterson in the Mike Fellner-Bernie Katzman production of "Guys and Dolls". This was originally scheduled to air on NBC. But, the network backed out at the last minute, claiming that the budget was too high for a summer camp production. (Photo courtesy of David S. Simon)



Mike Fellner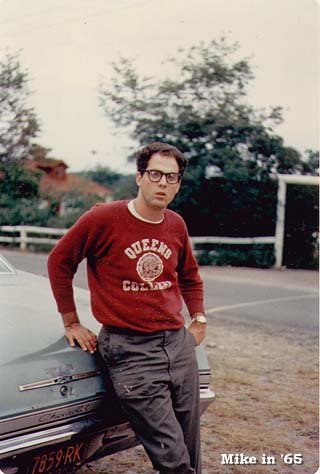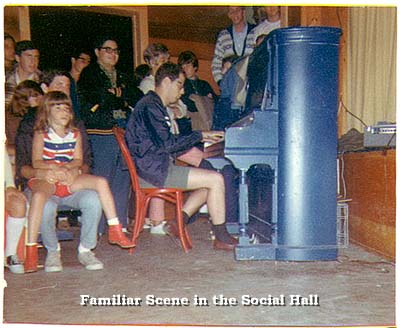 A gifted musician...a creative collaborator, Mike was involved in every stage production from 1964 to the end of the decade. In '65 & '66 he teamed with Bernie Katzman (Mike directing and Bernie doing the music). From '67 on, Mike did music and Art Baum was drama counselor. All told, Mike, Bernie & Artie collaborated on many memorable shows. And, after an hiatus of one summer, he returned in 1971, teaming with David Simon for:


An inspired choice for a camp production, though difficult to stage. The script contained dauntingly long passages of dialogue. Danny Shainis, as John Adams, was obliged to memorize a huge volume of dialogue in a short time. He, along with Julian Kaplan as Ben Franklin, Steve Pfeffer as Thomas Jefferson, Betty-Ellen Shave as Abigail Adams, and Gary Licker as Edward Rutledge provided a spellbinding evening of theater for the camp. David Simon was able to arrange with Milton Kurtz to have the cast outfitted in professional costume...the first time in the history of the camp that this was done. David was also able to faithfully recreate the set of the Broadway production...(Photos courtesy of Michael Fellner)

David Simon, 1971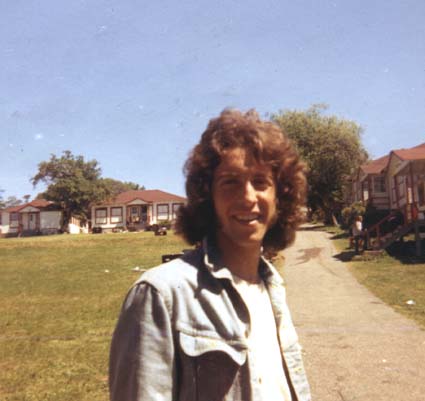 David in his Paul McCartney/Revolutionary War period...

Grease, 1973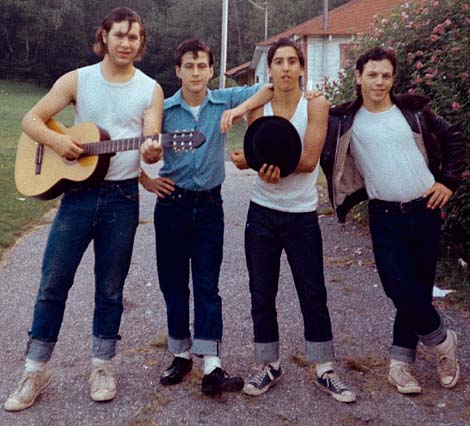 The Broadway production of "Grease" had premiered the previous fall at the Royale Theater on W. 45th Street. The Diana-Dalmaqua production was directed by David Simon, music by Alan Gimbel. Pictured are the Burger Palace Boys (L to R): Larry Nalitt, Gary Licker, Steve Kramer, Andy Baum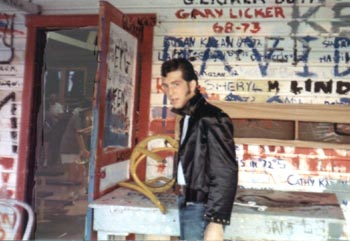 David Simon starring as Danny Zuko, some five years before the John Travolta/Oblivion Neutron-Bomb (Uhhh, Olivia Newton-John) film.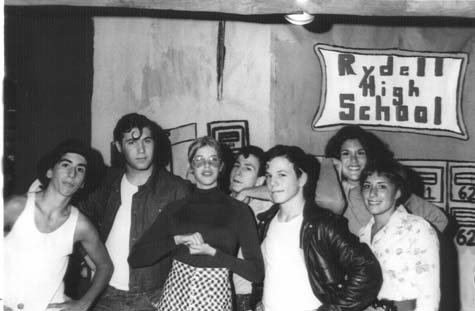 Another shot of the cast, L to R: Steve Kramer, Larry Nalitt, Bette Boyarin, Gary Licker, Andy Baum, Lenore Boyarin & Jill Modell

David Eisberg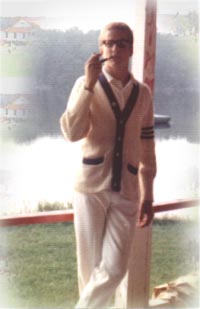 The late David Eisberg in character as Eugene Florcyck. David was the first kid I ever met at CDD. In 1970 he came onto the Brooklyn bus carrying a fifteen pound bag of popcorn for everyone. An independent thinker who had style & class, by 1973 he was Herb Ross' premier protegé, helping to supervise the pioneering program as a junior counselor at age 16.

The Wiz, 1976
To my knowledge, this show was staged only once at CDD. Directed by Joel Ehrlich, music by Ira Meltzer, it was yet another inspired choice. Doug Seibel as the Tin Man and neophyte Larry Sivitz as the Scarecrow. The Cowardly Lion was played by Andy Charles, who would grace many a CDD stage production. At the time, Andy was a student at the American Academy of Dramatic Arts. Dorothy was played by Parsippany New Jersey's own Michele Weiss, who was the female lead opposite Andy on more than one occasion. The guy who played the Wiz was some schlep from Brooklyn...
(Photo credit: Elaine Diehlmann)
South Pacific, 1976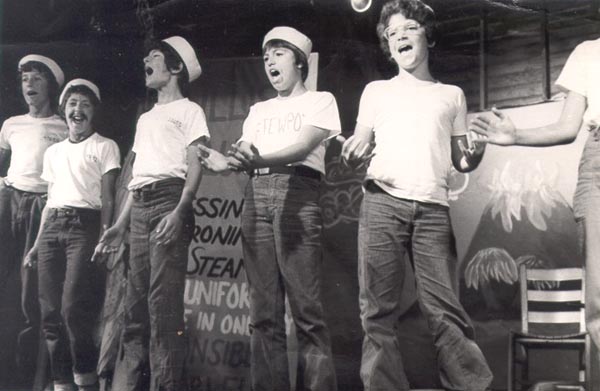 The Senior Boys are either singing "There Is Nothing Like A Dame" or they're begging for food, dressed in silly sailor outfits.
L to R: Mark Hotchkiss, Jeff Wells, Jack Ades, Jeff Weiss & Adam Gindi
(Photo courtesy of Jeffrey Wells, Photo Credit: Elaine Diehlmann)
Annie, 1977
Another Joel Ehrlich production. This show was in rehearsals during my last, truncated summer at CDD. If any of you "late 70s" folks can identify the cast members, let us know!(Photo courtesy of Lisa Alter)
---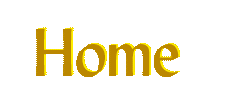 Diana-Dalmaqua postings - Click on

Reunion News Bulletin Board...
You just might see a message from an old bunkmate.